When I was younger, there was something that my mom would ask my brother and I before bed everyday: "What was the best part of your day?". Even at thirty-one, she still asks me this every time I talk to her. I even ask my husband this every night before we go to bed. Since this has been such an important question in my life, I thought it would only be appropriate to included it in my blog. Instead of the favorite part of my day, every Monday I will be sharing my favorite part of the previous week. With that being said, I bet you can already guess what my favorite part of last week was. If you guessed what you are currently reading(aka this blog) then you get all the gold stars!!
This has seriously been such an amazing experience for me! For as long as I can remember, this has been on my mind, my bucket list, and my vision board. Something that has always held me back from pursuing blogging most of the time was my mindset. I just couldn't get the negative thoughts out of my mind. I had so much self doubt and self destructing thoughts."What will people think of me?" "Who will even read this?" "Will any of my friends and family support me". These were just some of the thoughts that were holding me back. I would always hype myself up to start, but then talk myself back down. I'm very lucky that I married such an amazing man who always builds me up. Josh and I are always discussing our thoughts, wants, ands visions for lives. One night I told him everything that I was thinking about this blog. All of my dreams, wants, and visions. He told me to go for it. I then proceeded to tell him the things that were holding me back. He again told me to go for it and do what makes me happy. Now it's at this point where I should have just put fingers to the keyboard and typed away. If you know me, you'll know that I am a stubborn girl (and I normally ignore Josh anyways…sorry babe, but it's one of many perks of being a husband). So I did what any girl would do, I turned on Netflix to center myself…this is normal right? I turned on one of my favorite Hilary Duff movies…A Cinderella Story. As I was watching the movie, I still had the blog on my mind. Do y'all remember in the movie when she's at the diner and then the guitar falls off the wall and then you see that quote that her dad had up in the diner. "Never let the fear of striking out keep you from playing the game" Y'all that hit me right in the feels! Who would have thought it would take Lizzie McGuire to speak to me to get me grinding. That quote spoke so deep to me, what is the worst that could happen? I could write this and the only people who would read it would be my parents and husband or I could use that fear to be my fire and not care if I strike out. Think of this, how many baseball players step up to the plate and know what is going to happen? I don't think any of them. The only thing that is certain is that the pitcher is going to throw the ball. Whatever happens after that is the batters call. Are you going to swing and hit, swing and miss or play it safe and not swing, either way they decide the fate.
So there I was on my sofa watching this movie and it hits me. I am letting fear get in my way of going all in for my dreams. So with my new confidence given to me by the one and only Hilary Duff (I mean…could I have a better role model??) I told Josh it's go time and I opened up my laptop and began to plan and create this wonderful masterpiece. And this my friends is what dreams are made of!!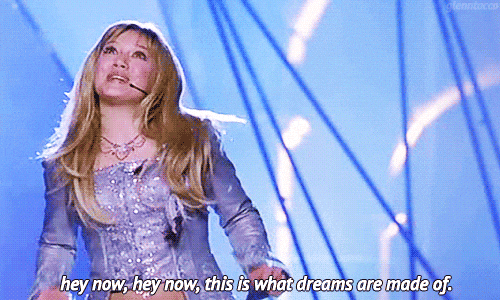 With all of that being said, I would like to give a shout out to all of my hype girls and guys. To all of my friends and family who send me such love and encouragement, you have no idea how much all of that means to me. Thank you again for all of the continued support and I can't wait to continue this favorite thing with y'all!!
xo ashley